The logistics and industrial market continue to accelerate as the stock of modern warehouse space approaches 6 million sqm. Statistics show that around 730,000 sqm of industrial space is already under construction and will be delivered by the end of this year. Thus, by the end of 2022, the stock of industrial space will exceed the 6 million sqm mark. Of the 730,000 sqm under construction, a quarter is pre-leased, showing the openness of developers to invest and speculate after a record year. This article contains useful information both for those already working in this field and for those about to take their first steps in this industry.
Inventory management trends in 2022
Inventory management is one of the most important tools that managers use to evaluate the efficiency and performance of their organization. Effective inventory management can give any company a significant competitive advantage. 5-10 years ago most companies were focused on inventory cost tracking and management. These days they are much more focused on efficiency and are looking for solutions to improve their services at lower costs and with greater speed.
Here are the most important inventory management trends in 2022!
Artificial intelligence
Artificial intelligence is starting to be used more and more in all fields, including warehouse management – specialists argue that artificial intelligence is one of the most important inventory management trends in 2022. It helps reduce errors made by operators, but also processing times. For example, artificial intelligence will calculate the number of pallets or parcels in the warehouse that need to be moved in a given day, as well as the amount of equipment needed to complete the task. The calculations are based on the skill level of the operator and the storage units, and machine learning algorithms will develop a forecast of stock movement and efficient inventory management. Other benefits that artificial intelligence will bring to the inventory management process are:
implementation of real-time adjustments in the integrated warehouse management system
much more efficient communication – all elements of the system will exchange information much faster than human agents
improved productivity through the use of machine learning algorithms
adjust order processing speed and volume to increase productivity
using robots that can select the most efficient picking routes, pick and redistribute goods in a fraction of the time it takes humans – for example, some machines use artificial intelligence to pack products
in the future, AI could also improve equipment handling capabilities – 30% of warehouse jobs are expected to become fully automated by 2030*
Warehouse automation
Automation is another important inventory management trend and we can see this in the increasing number of companies investing in warehouse automation. When we talk about an automated warehouse, we mean a system that does not rely on people. A warehouse solution is installed in a warehouse where the entire operation, including storage and stock picking, is automated and programmed by software.
There are many remarkable advantages to owning an automated warehouse. These include:
reduced payroll costs
reduced energy bills as they can operate at low light levels
efficiency, because an automated warehouse can operate 24 hours a day
reduced maintenance
elimination of the risk of forklift damage that occurs in manual storage operations
reduced risk of accidents to warehouse workers
high-density warehousing, as an automated warehouse allows the use of the entire space
Some companies prefer to wait before investing in warehouse automation and try so-called "semi-automation", designed to reduce some of the more laborious tasks such as order picking. For example, they are implementing automated pallet trolley systems, which increase storage capacity, save time and reduce operating costs, and mobile base racking systems for pallet storage, which have guaranteed operational safety at temperatures down to -30°C.
Warehouse optimization solutions
Optimizing warehouse operations should be a priority for everyone who owns a company. There are many strategies you can apply to optimize these activities, now it would be reducing product movement times with the help of conveyor belts, grouping packages by zones for easier picking and distribution, grouping orders, fast replenishment, using automated storage systems, etc.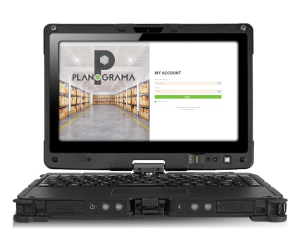 A WMS application, such as Planograma, helps you optimize your warehousing activities, providing the information support needed for good organization of the modern warehouse, starting with reception, put-away, picking, packing, and even delivery or inventory. The main benefits you will get are mainly:
reduced processing times
elimination of human errors
minimizing operating costs
real-time information display (stock, orders, inventory, etc.)
clear evidence of activities carried out (providing answers to questions such as who, what, where, when)
optimal use of available human and material resources
Sustainable supply chains
Sustainability is the ability to exist and develop without depleting natural resources for the future. One of the most important inventory management trends in 2022 that will continue in the coming years is improving the environmental footprint of activities in the warehouse or supply chain. In this respect, warehouses could aim to reduce the amount of energy consumed, reduce the carbon footprint in warehouses but also in transport.
Looking at the above trends, we can see that by implementing them, this sustainability objective is also achieved. Specifically, automation brings less energy consumption, but also efficiency in operation, and a warehouse management system, such as Planograma, helps you to use the resources you have rationally.
Omnichannel customers services
Expanding with new sales channels is quite difficult, mainly because operational processes are made more cumbersome to some extent. Allocating inventory to each sales channel, managing multiple sales data sets and forecasting sales, cross-demand are some of the challenges retailers have to overcome if they want to stay in the market and remain profitable.
Proper design of warehouse operations is essential because accepting, storing, picking and delivering orders for multiple channels can require up to three times the resources of a traditional warehouse. It is essential to realize that logistics should be treated as a means to competitive advantage and not just a cost. This is why having a warehouse that meets the special requirements of online customers is becoming an essential part of omnichannel retailers' market strategies.
In terms of operational performance, an ideal omnichannel warehouse should have the following:
a properly designed area for the acceptance and delivery of goods that could be adjusted according to the volume of deliveries and shipments,
various storage areas – such systems should allow for easy transfer or relocation of products within and between zones, e.g. during seasonal changes or during discounts and promotions,
dedicated product storage systems
a zone with value-added services
a shelving area for leaflets, supplements and samples added to parcels,
a returns processing area,
a sorting area,
a buffer area for picked orders waiting to be delivered to a courier company,
a storage area for packaging materials.
All these inventory management trends help you organize your warehouse much better and achieve a high level of efficiency and productivity.
*Source: https://www.easyship.com/blog/using-artificial-intelligence-for-warehouse-operations