61% of companies worldwide use automation software and tools, and 19% of companies plan to use them in the next 12 months, according to an IBM study.
Marketplace sales automation has revolutionized the way businesses scale, operate and interact with customers. With the rise of eCommerce and the proliferation of marketplaces like Amazon and eBay, sales automation has become a crucial tool for retailers looking to streamline operations and increase efficiency.
Specialists recommend automation solutions to scale businesses
As early as 2018, specialists were recommending the implementation of technology and automation to stimulate business growth. Basically, adapting to new changes – "instead of focusing on incremental changes, focus on changes that can fundamentally change the structure of the organization", according to Deloitte.
Our partners from easySales, the Romanian platform that integrated some of the most relevant marketplaces, gave some examples of eCommerce activities that can be automated and that help you increase the productivity of your team and sell where you find numerous and loyal customers.
What activities can you automate in eCommerce?
Automation can be applied to both marketing and sales activities, as well as customer service, depending on your needs, of course. Here are the activities we have identified that can be automated in the marketplace sales process:
Automatic bidding price updates with the inclusion of a stop loss limit. The Auto-Price algorithm updates and adjusts the price of products in real-time in gradual increases or decreases, so your product reaches the first position. The algorithm has developed a "stop loss" limit to protect the profit. In eCommerce your product is on sale 24/7 and manual settings are not enough. eMag's top bid is determined by the lowest price of eMag's products and the Net Promoter Score (NPS) used by eMag. NPS measures the customer experience after ordering at least one product and the degree of satisfaction. Keeping the product in the first position dictates the sale, as the product in the second position fails to sell as well.
Automatic resizing of images sent in the product offer and pictures with a transparent background. It is a functionality that helps you quickly solve the restrictions imposed by the marketplace to obtain a valid product document: minimum size, white background, etc. According to the latest studies, images on a white background increase sales and capture the consumer's interest by presenting a clean overall image, therefore they have been imposed on many marketplaces.
Order confirmation and shipping updates. With automated emails, you notify customers of order confirmations and updates on the shipping status of their purchases. Automated emails and sms notifications on order receipt and order delivery are a must in consumer communication.
Inventory management. Monitoring stocks in real-time, across all channels, so that you can automatically update the information about the availability of products on your website and on the marketplaces you collaborate with is a necessary functionality in order not to sell products without stock. Once you choose an API integration solution with relevant marketplaces in the market, you can connect several online stores and enjoy stock and price synchronization. Orders registered in the platform and confirmed by you will update the stock of all your products.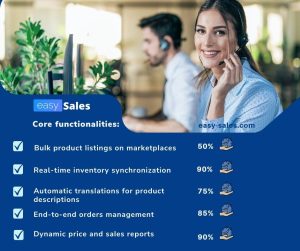 Automation of the delivery process. You can integrate courier systems or courier aggregators that allow the automatic selection of the right courier company for each order, depending on the customer's location and product availability
Automatic translations of product documentation. With the removal of tax and customs barriers, merchants can expand into international marketplaces, but the translation of product documentation remained a big impediment. easySales has solved the communication barrier for thousands of users in marketplaces! It has developed, at the request of customers, an automatic translation solution that facilitates their presence on foreign marketplaces.
Order processing through bulk and automatic generation of invoices and AWBs. You can process large volumes of invoices, AWBs and generate a single PDF. Product imports and mass processing, plus quick adjustments to product documentation enormously help you save time.
Postcode auto-completion! Where the postal code is not filled in, the process can be automated by automatically adding the postal code after the locality and the full address where it is missing. This development fixes errors where the minimum information in the delivery address is not complete.
Data analysis: 14% of marketing leaders face the challenge of having a data-driven strategy and staying on top of trends. HubSpot's study on a sample of over 300 CMOs from companies around the world is interesting to read. Automation may be used to collect, analyze and interpret online store data such as traffic, sales, and customer behavior statistics. Each company bases its growth and development on performance indicators that are communicated internally, periodically, in the form of internal reports that can be accessed directly.
The benefits of automation in marketplace selling
Time-saving. The most important aspect of automating eCommerce processes is the time saved by implementing this technology. Moreover, as a business scales, requirements, complexity and repetition increase, and the systems or processes that used to work become inefficient, and in this sense automation becomes a saving solution.
Scaling capacity. A key benefit of marketplace sales automation is the ability to quickly and efficiently scale operations. By automating tasks like lead generation and qualification, you can focus on high-value activities like product development and customer service. This allows you to grow your customer base and revenue faster than you could with manual processes.
Consistency and eradication of human error. Another benefit of sales automation is consistency. You rely on technology to manage routine tasks and can reduce the risk of errors and improve the quality of your customer interactions. This is especially important on a market where competition is fierce and a single mistake can lead to lost sales.
However, it is important to use sales automation responsibly and ethically. This means you must avoid sending unnecessary or unwanted messages to your customers.
Implementing automation in your business doesn't require a significant investment if you're using scalable SaaS platforms, especially if you're just getting started.
The benefits of easySales for merchants:
Increasing sales through simplified bulk listing on popular marketplaces;
Reduction of order processing efforts by up to 90% due to automation (AWBs and invoices generated in bulk – automatically, centralization of orders from multiple eCommerce platforms);
Increasing the level of control through the automatic synchronization of stocks;
Decreasing the amount of manual work and increasing the quality of services offered to customers, by: generating AWBs and bulk invoices, updating prices, query reports;
Cross-border expansion in Romania, Bulgaria, Poland with the help of the automatic translation service of product documentation;
Access to technical support services and constant technical developments;
Free and real-time updates for all integrations.
With the right software, you can sell on multiple relevant channels with the same effort it takes to sell on a single channel.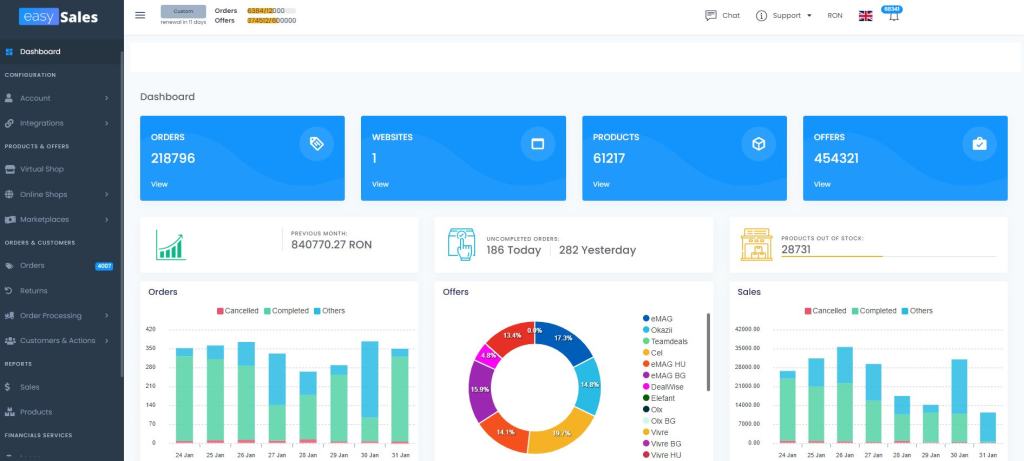 Conclusion: Lack of automation costs more than implementing it.
Automation is an essential part of the modern eCommerce landscape and can be a key factor in the success of an online business. It involves the use of software or an IT platform to automate various tasks in the sales process on marketplaces.
Now it's your turn to take action!
If you don't have an account in the easySales platform yet, now is the time to test for free. We, the easySales team, have built an accessible, stable and intuitive platform for our e-commerce partners, that facilitates presence on marketplaces, without technical knowledge, in less than 1 day.
The platform offers hundreds of editing and bulk processing functions required for listing on marketplaces and managing orders on marketplaces, features to create custom product feeds for Google Shopping price comparators, affiliate marketing platforms, search engines, and automated functions needed in scaling the business. 650 users were using the easySales solution at the end of December 2022. In 2022 easySales expanded its enterprise segment with the following important clients: Decathlon, Arsis, Rocast, Elefant, Conox, Somnart, evomag.
The easySales solution was named a finalist in the Uipath Automation Award competition in October 2021 and, in May 2022, became a finalist in the EBRD Star Venture program, dedicated to the accelerated development and expansion of start-ups with potential in Europe, which can strengthen the ecosystem of eCommerce with automation solutions.